Relocating to Missouri? Let's Discuss Float Trips!
Posted by Ali Gaus on Friday, January 7, 2022 at 12:11 PM
By Ali Gaus / January 7, 2022
Comment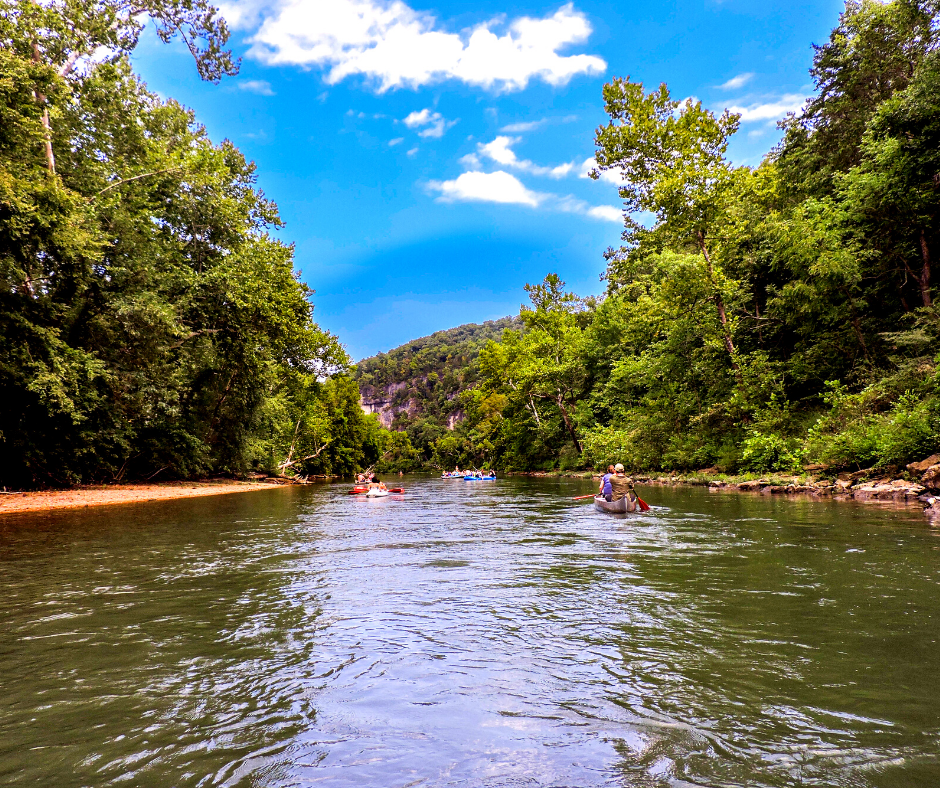 We thought that we would spend a few minutes discussing a really fun topic—float trips. When you decide to move to Missouri you will learn a lot of new and exciting things that Missourians like to do for fun. We can almost guarantee that you will hear the phrase "float trip." Your new neighbors, work colleagues, and well heck, everyone including the grocery delivery guy will be raving about this activity called floating. Now, don't be embarrassed, many who move to Missouri have absolutely no idea what these people are talking about. Around the summer months you will notice that everyone will be chatting about floating and their float trips. Many new transplants to Missouri have visions of people sitting in inner tubes floating around a lake, a pond, or maybe a muddy river on a sunny summer day. It's hard to not immediately pass judgment on a hobby that sounds so bizarre! Well you can breathe easy, since you are considering a move to Missouri, we thought that it would only be right for us to quickly explain to you what a float trip is, where people float, and the main reason why Missourians enjoy this activity.
Float Trip Explained
First of all, a float trip takes place on one of Missouri's many beautiful rivers. You and your friends grab your kayak, canoe, or yes—even possibly a tube, and spend the day floating down the river. While relaxing in the cool water and hot sun, you will enjoy the river's majestic scenery. This scenery often includes caverns, bluffs, crystal-clear blue swimming holes, and waterfalls. Before you head out on your adventure be sure to pack some essentials: swimsuit, water shoes, sunscreen, sunglass, hat, life jacket, and of course a cooler full of drinks and snacks!
Where to Plan a Float Trip
Missouri is full of natural beauty and breathtaking views. This little fact is often unknow or overlooked by people who are unfamiliar with the state. Missouri is home to two iconic lakes: Lake of the Ozarks and Table Rock Lake. These lakes are enjoyed and loved by many! Missouri is also home to hundreds of rivers and streams. These are the waterways that you will find a good many people floating in the summer. An hour from St. Louis, you will discover the Meramec River. Yes, even city people in Missouri enjoy a good summer float trip. The Meramec is very popular because of its extraordinary bluffs, smooth flowing water, and vast variety of wildlife. Another popular place to float is the Niangua River. It's located not too far from Lake of the Ozarks (30 minutes from Lake Ozark and 10 minutes from Camdenton). Not only is the Niangua surrounded by breathtaking scenery, but it also boasts of a campground and cabins. Finally, we must mention the Current River. This river is found in the foothills of the Missouri Ozarks, and it is absolutely stunning. The crystal-clear water surrounded by the stunning Ozark landscape will simply leave you breathless. Lodging accommodation is available as well as gravel bars for overnight tenting. While floating on the Current River, make sure you take a moment to pull off and grab a swim in the clear blue water of Blue Springs.
Why Missourians Float
When it comes to gorgeous rivers in Missouri, we have barely scratched the surface. After you move to Missouri and you decide that you are interested in planning a float trip, you will not struggle to find a river near you. People in Missouri love the outdoors. They love enjoying the beauty of nature and finding new adventures. They are always down for a day with great friends and family—especially if that involves water on a hot, humid Missouri summer day.
So, when you move to Missouri and hear everyone talking about their weekend float trip plans… you'll know exactly what they are talking about! Embrace one of Missouri's favorite summertime activities and hit a lake or river near you.