12 Must-Try Restaurants in Columbia, Missouri
Posted by Ali Gaus on Thursday, January 27, 2022 at 3:46 PM
By Ali Gaus / January 27, 2022
Comment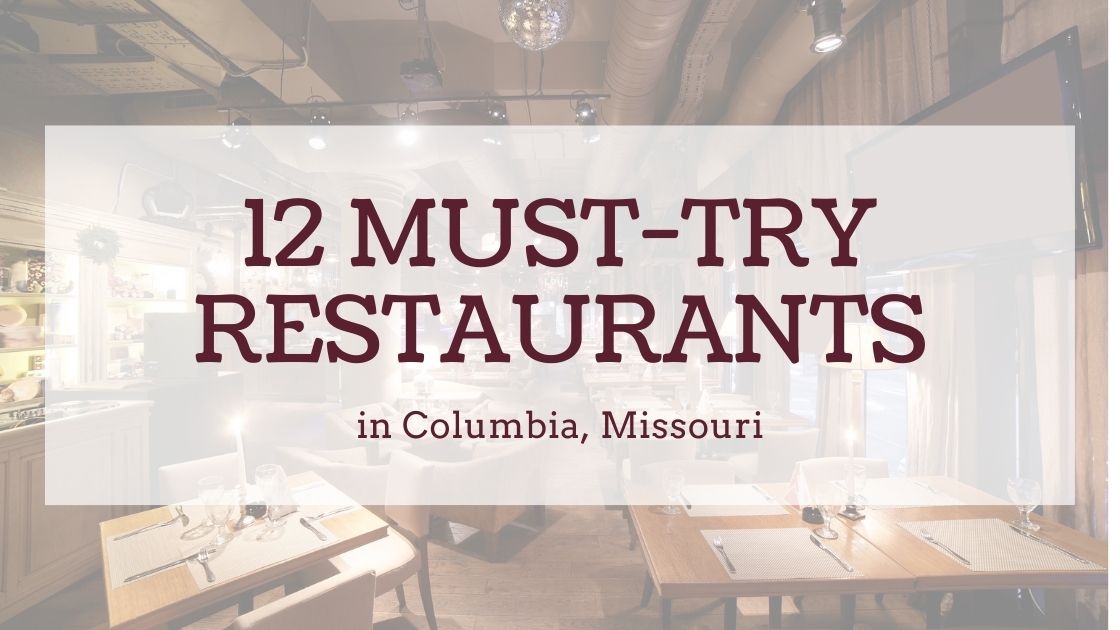 Discover Columbia, Missouri's best and most unique local restaurants.
1. Flat Branch Pub & Brewery
Flat Branch has been a local's favorite since 1994. It is located in historic downtown Columbia near the flat branch creek. It was Columbia's first brewery since 1841. The menu is full of traditional pub favorites and features in-house baked bread and desserts. Flat Branch also offers tons of unique brews, just like Brewmaster, Larry Goodwin's Great Pumpkin Ale.
2. Addison's
Addison's is an American grill that features unique and delicious menu items. The trendy, urban Americana atmosphere always draws a huge crowd. There are two convenient Columbia locations—downtown and south. The Nachos Bianco is a must-try! Addison's also has a fantastic Sunday brunch.
3. CC Broiler
CC Broiler is Columbia's premier steak and seafood restaurant. The menu features Wood-Fired Prime Steaks, Fresh Scallops, Stuffed Salmon, and Mango-Glazed Chicken. Reservations are recommended.
4. PaPPo's Pizzeria & Pub
PaPPo's original location was in downtown Springfield in 2012. Since then, they have expanded across the state of Missouri. Much of PaPPo's unique and award-winning flavors and recipes came from the founder's Italian family. Whether you are in the mood for fabulous pizza, calzones, or meatballs, PaPPo's is the place to go.
5. Jose Jalapeno's Authentic Mexican Restaurant
Jose Jalapeno's is an authentic Mexican restaurant on Columbia's southwest side. The menu features everything from Mexican Pizza to Burritos Carnitas. Founder Jose Luis opened his restaurant's doors on May 3, 2113.
6. Murry's
Murry's has been a Columbia institution since 1985. It perfectly pairs good food and excellent live jazz. Its menu features Ahi Tuna, Fettucine, Steak, and Lemon Pesto Chicken.
7. D. Rowe's Restaurant & Bar
Known as Columbia's "regular" place, D. Rowe's is known for its award-winning wings and incredible sports atmosphere. It was established in 2002 by Mizzou football lineman David Rowe.
8. Chris McD's Restaurant & Wine Bar
Chris McD's has been in business since 1991 and has quickly become one of Columbia's highly desirable fine-dining establishments. It has won Restaurant of the Year, Best Seafood Restaurant, Best Dessert House, and Midwest Iron Chef Champion (Chris McDonnell).
9. Park Restaurant & Bar
Park Restaurant is located on the south side of Columbia and features dishes that showcase local flavors and ingredients. The small plate menu offers seasonal items such as Coconut Salmon, Tempura Shrimp, and Smoked Pork Belly Ramen.
10. The Heidelberg
The Heidelberg, or 'The Berg' to locals, is located in Columbia's historic downtown. It is a great spot for locals and Mizzou students alike. Their appetizers and atmosphere are incredible. Great food and great service is what 'The Berg' is known for.
11. 44 Stone Public House
44 Stone is Columbia's very one gastropub. It offers customers quality food, fine ales, and excellent whiskey. The atmosphere at 44 Stone is fashioned after the comfortable and casual pubs of the British Isle. The menu offers unique dishes such as Welsh Rarebit, Colcannon, Fish and Chips, Chicken and Leek Pasty, and Whisky Grilled Salmon.
12. Shakespeare's Pizza
Who doesn't love pizza? Columbia's local pizza joint is definitely Shakespeare's, and it has been serving up great slices since 1973. There are three convenient locations in Columbia—downtown, west, and south.